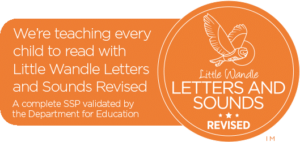 Phonics – Little Wandle at EVS
Little Wandle Letters and Sounds Revised, is the systematic synthetic programme that we have chosen to support children continually develop their phonic knowledge as they transition into Key Stage 2. Phonics is the process that is used to help children break down words into sounds, as well as build letter and word recognition. This is a key skill, not just in early reading but across the primary phase and even beyond that. Little Wandle has a specifically designed 'Rapid Catch-Up' programme, aimed at children aged 7+, who may need additional support with reading and phonics, or who haven't fully covered the KS1 curriculum.
Any child from Year 3 to Year 6 that is reading below their age group expectation will be assessed to see if they still have gaps in their phonic knowledge. If a child working below age expectations is found to have gaps in their phonological knowledge, they will be entered into our Little Wandle Rapid Catch-Up programme. Assessments are then carried out every four weeks to ensure children are on track and to ascertain the level of their secure phonic knowledge.
All children on the Rapid Catch-Up programme will work in small groups five times a week to take part in two phonics sessions alongside three reading practice sessions. These sessions will last for 20-30 minutes each day.
If your child is part of the Rapid Catch-Up Programme, your child's class teacher will speak to you about which phase they are currently accessing and how best to support your child.
Further information can be found by following the link below, which provides some helpful guides and videos to show how to pronounce each sound accurately at home.
Please see the links below for additional information:
Reading - 1 page profile